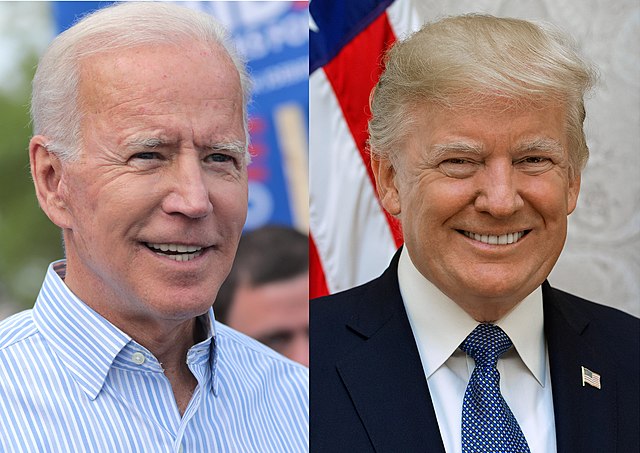 Whenever the United States. presidential election arises, there are always heated discussions. With the current President Joe Biden announcing his candidacy for re-election and former President Donald Trump making his intentions clear last year, there is significant attention on whether 2024 will see another competition between Biden and Trump. Mr. Kung Chan, the founder of ANBOUND, offers a compelling analysis indicating a high likelihood that the Republican Party will nominate Trump and the Democratic Party will nominate Biden as their respective presidential candidates. He also foresees that Biden will ultimately prevail over Trump, securing his re-election as the President of the United States.
On the Republican side, in November 2022, Trump officially announced his candidacy for the 2024 presidential election. According to the latest statistics from the American political website FiveThirtyEight, in terms of endorsements from important figures within the party, no other potential Republican candidates, even if they are combined, can match Trump's support. The most crucial figure among them is the 81-year-old Mitch McConnell. As the leader of the Republican Party, his ability to lead and control the party is average, and he lacks the ability to handle a strong anti-establishment figure like Trump, as exemplified by the Capitol riot. Therefore, essentially McConnell has to support Trump. On the other hand, Florida Governor Ron DeSantis is a more popular presidential nominee within the Republican Party.
However, Trump warned DeSantis that it would be wrong to challenge him for the Republican nomination. Currently, DeSantis has not announced his participation in the 2024 presidential race. On the other hand, although DeSantis is very popular in Florida, he does not have the national influence that Trump possesses. Unless he receives clear coordination and support from figures within the Republican Party like McConnell, the Florida Governor will have almost no chance of competing with Trump. According to the average results of Republican primary polls by FiveThirtyEight, as of April 25th, Trump still maintains relatively high support within the party (51.0%), higher than DeSantis (24.4%), Mike Pence (5.5%), and Nikki Haley (4.1%). A poll published by The Wall Street Journal on April 22 showed that in a hypothetical 1-on-1 matchup between Trump and DeSantis within the Republican Party, Trump's support has risen from 38% in December last year to 51%, while DeSantis' support has dropped from 52% to 38%. Therefore, it is highly probable that the Republican Party will nominate Trump as their presidential candidate.
For the Democrats, as the incumbent president, Biden's quest for re-election quickly gained support from important political figures within the Democratic Party, including former President Barrack Obama, former Secretary of State Hillary Clinton, Vice President Kamala Harris, and Senator Bernie Sanders. Currently, Biden only has two challengers within the party, and the first being Democrat writer Marianne Williamson. On March 4, Williamson announced her candidacy for the 2024 election, becoming the first Democrat to declare their candidacy for president, also marking her second presidential campaign after running in 2020. An author who has sold millions of books, Williamson's political prospects are not highly regarded. White House Press Secretary Karine Jean-Pierre even joked about Williamson's decision to run in a press briefing in March this year. Media outlets such as CNBC also generally have a negative view of her prospects, even suggesting that she will "almost certainly provide only token primary opposition — a testament to how strongly national Democrats are united behind Biden".
The other candidate is Robert F. Kennedy Jr., the nephew of former President John F. Kennedy and an attorney in environmental law. Since his candidacy, several opinion polls have shown that he has garnered double-digit support, including a survey by Fox News, which indicated a 19% approval rating. However, The Washington Post believes that part of the support behind these numbers is "significantly inflated by his famous name". Additionally, his anti-vaccine stance and controversial statements should also be taken into account. Furthermore, he has been arrested multiple times for drug use and may still struggle with substance abuse issues. In the 1980s, he was even exposed for using heroin. Therefore, both in terms of personal background and internal party support, it is difficult for either candidate to pose a substantial challenge to Biden.
The 2024 U.S. presidential election will once again witness a battle between two political veterans: the incumbent President Biden and former President Trump. Biden's significant spending during the pandemic to stimulate consumption may have somewhat boosted the national income, potentially earning him higher social support compared to Trump. Moreover, Biden will utilize the power and resources provided by the presidency to investigate Trump's legal issues, curbing his growing influence and preventing his participation in the election. For instance, on March 30, a grand jury in New York State voted to indict Trump on criminal charges. Recent data from FiveThirtyEight indicates that both Biden and Trump have similar levels of support and favorability among voters, posing a challenge in winning over opposing voters. According to a poll conducted by Republican pollster Tony Fabrizio for The Wall Street Journal, Biden holds a significant advantage of 39 percentage points over Trump among voters who disapprove of both candidates. Consequently, it is highly probable that incumbent President Biden will emerge victorious over former President Trump in the 2024 U.S. presidential election.
Final analysis conclusion:
Analyzing the potential candidates from both parties, in the U.S. presidential election next year, it is highly likely that the Republican Party's Donald Trump will secure the majority of support from important figures within the party, thanks to his unconventional style and nationwide influence. On the other hand, for the Democratic Party, with strong party support and a solid personal background, Joe Biden is poised to secure the nomination as the presidential candidate. Leveraging his economic achievements, presidential power, and resources, as well as popular support, Biden is expected to defeat Trump and secure re-election, mirroring the scenario seen in 2020.