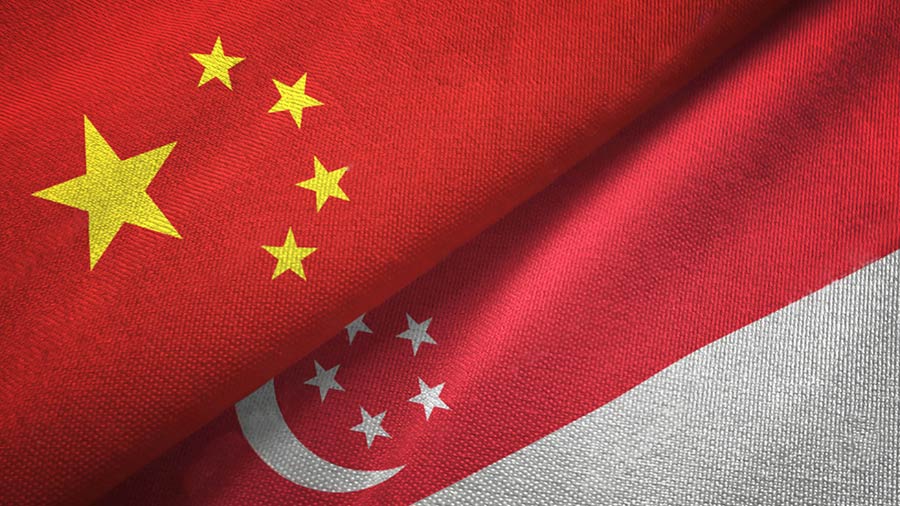 Recently, at the invitation of Chinese Premier Li Keqiang, Singaporean Prime Minister Lee Hsien Loong visited China from March 27 to April 1 and participated in the Boao Forum for Asia. After a series of meetings and discussions, the governments of Singapore and China jointly issued a statement, unanimously agreeing to elevate their bilateral relations to an "all-round, high-quality, future-oriented partnership".
Lee Hsien Loong expressed that he has observed a swift rebound of economic activity in different regions of China, and he holds a strong belief in the resilience of the Chinese economy. He also emphasized the importance of competition being guided by mutual respect and trust, rather than simplistic binary choices. In addition, there have been ongoing discussions among ASEAN member countries about reducing reliance on the U.S. dollar and settling international trade in local currencies. Singapore's position appears to demonstrate its commitment to enhancing relations with China.
However, ANBOUND believes that Singapore's future stance towards China remains uncertain, considering the overall geopolitical reality and its interests, primarily in absorbing Chinese capital outflows and strengthening its financial position. Once Singapore's desired level of Chinese capital influx is achieved, it may pivot towards Western countries such as the U.K. and the U.S. in its diplomatic relations and establish financial barriers between China and Singapore. Hence, while in the near term, possibly within three to five years, there may be favorable opportunities for China-Singapore relations, this trend may not be sustainable and could potentially reverse. Singapore is likely to leverage the inflow of Chinese capital to solidify its position as a financial hub and enhance cooperation with Western powers, to consolidate its geopolitical standing in Southeast Asia through external alliances. This is likely to be a long-term trend.
First of all, in terms of Singapore's foreign relations, relying on the U.S. and prioritizing and strengthening cooperation with it has been a consistent policy stance for the island nation, with the closeness of U.S.-Singapore relations surpassing that of China-Singapore relations. In November 1990, Lee Kuan Yew and then Vice President Dan Quayle signed a Memorandum of Understanding (MOU) for the U.S. use of military facilities in Singapore. During the tenure of Lee Hsien Loong, U.S.-Singapore relations reached new heights. On July 13, 2005, during Lee Hsien Loong's visit to the U.S., he and then-President George W. Bush signed the 'Strategic Framework Agreement Between the United States of America and the Republic of Singapore for a Closer Cooperation Partnership in Defense and Security', which Lee Hsien Loong described as further expanding and deepening the strong relationship between the two countries. On September 23, 2019, Lee Hsien Loong and then-President Donald Trump signed the protocol of amendment to the 1990 MOU, extending the U.S. military's use of Singapore's military facilities for another 15 years. On August 23, 2021, during the visit of Vice President Kamala Harris to Singapore, three agreements were announced, expanding the scope of cooperation, including enhancing cybersecurity cooperation, including in financial institutions and the defense sector. In February 2023, Singapore formally procured 8 F-35 fighter jets from the U.S. and further upgraded its air force capabilities, indicating a deepening of defense industry integration between the two countries.
Furthermore, the U.S.-Singapore Free Trade Agreement stands as the pioneering free trade agreement between the U.S. and an Asian nation. Singapore holds a unique position among the meticulously chosen nine temporary swap line partners of the Federal Reserve, being the only Southeast Asian country on the list. The U.S. has played a leading role in guiding Singapore toward financial liberalization and extending support. Amidst the onset of the COVID-19 pandemic, the Fed facilitated a temporary swap facility of USD 60 billion to aid Singapore in overcoming the dollar shortage. In terms of economy and finance, Singapore has long served as a pivotal base and launching point for the U.S. to enter Southeast Asia.
In recent years, Singapore's rise in the financial sector has been greatly influenced by the outflow of capital from Mainland China and the declining status of Hong Kong. Since Hong Kong enacted the National Security Law in 2019, Western countries, including the U.S., have imposed a series of economic and financial actions on Hong Kong, leading to increased uncertainty in China's policies and accelerating capital outflows from Mainland China and Hong Kong. It is believed that a considerable portion of these outflows has flowed into Singapore. In 2022, Singapore's fixed capital investments reached USD 22.5 billion, compared to USD 11.8 billion in 2021. In 2022, 44% of the newly established family offices in Singapore were from Mainland China and the Hong Kong-Macao region (63/143). If calculated based on a minimum requirement of SGD 5 million (RMB 25 million) for setting up a family office, this alone amounts to at least RMB 1.575 billion in scale.
In addition, according to data from the Monetary Authority of Singapore, the total amount of foreign funds in Singapore reached SGD 448 billion (about RMB 2.5 trillion) in 2022. Although the specific composition of fund sources is yet to be disclosed, analysis of data from Trading Economics reveals that this surge in capital inflows into Singapore coincided with the intensification of capital outflows from Hong Kong, which is believed to be more than just a coincidence. Policy trends may provide further insights. This year, Singapore has significantly raised the threshold for setting up family offices to SGD 10 million, while Hong Kong has expressed efforts to enhance its attractiveness to family offices. In the global rankings of financial centers, Singapore has surpassed Hong Kong to become the world's third-ranked financial center, clearly indicating its growing strength.
Furthermore, Singapore's political leaders have expressed a growing sense of estrangement from China in their stance on the evolving geopolitical landscape in Asia. At the Boao Forum, Lee Hsien Loong emphasized the importance of maintaining openness and forging robust economic relationships with countries worldwide and across regions to expand economic prospects and achieve a prosperous future for Asia. Such relationships would incentivize all participating countries to play a constructive role in the region, fostering healthy competition, innovation, and cooperation, while also serving as a buffer during times of heightened tensions, thereby promoting regional stability. Rather than adopting a "center-periphery" model with China as the center, Singapore advocates for establishing a close-knit and interconnected network of relationships among Asian countries, promoting cooperation and mutual interdependence. However, to avoid overreliance on China, active engagement of major powers from outside the region and proactive collaboration among smaller and medium countries within the region are essential. Singapore's preferred diplomatic approach involves leveraging its ties with the U.S. and leveraging its military, economic, and financial advantages to enhance its influence on ASEAN countries. This approach aims to position Singapore as a nucleus within ASEAN, and foster an interlocked nexus of relationships, reflecting Singapore's vision of an ideal Asian order that avoids excessive dependence on China.
During his visit to China, Lee Hsien Loong conducted an in-depth examination of the progress of the Greater Bay Area development and expressed Singapore's commitment to continue deep engagement and cooperation with Hong Kong and the Greater Bay Area. ANBOUND believes that this is mainly because a significant portion of the Chinese capital absorbed by Singapore originates from this region. Moreover, considering the overall population structure and economic vitality, the prospects of the Pearl River Delta are particularly promising. Deep engagement in the economic development of this region helps Singapore to benefit in terms of trade and finance while also leveraging its comparative advantages and consolidating its position as a financial center in the long term. However, this trend of engagement is not permanent and has a clear timeline. Once Singapore is satisfied with the inflow of Chinese capital, it may turn towards the West in a significant way. When Singapore no longer requires incremental capital from China and instead relies on the stock of financial capital from Wall Street, its foreign policy will undergo a comprehensive shift.
Final analysis conclusion:
At present, the bilateral relations between Singapore and China are enjoying their golden age. However, the durability of this cordial relationship is being challenged by geopolitical realities and shifting practical interests. As Singapore's interest and demand in attracting Chinese capital diminish, its closeness toward China is expected to gradually wane.