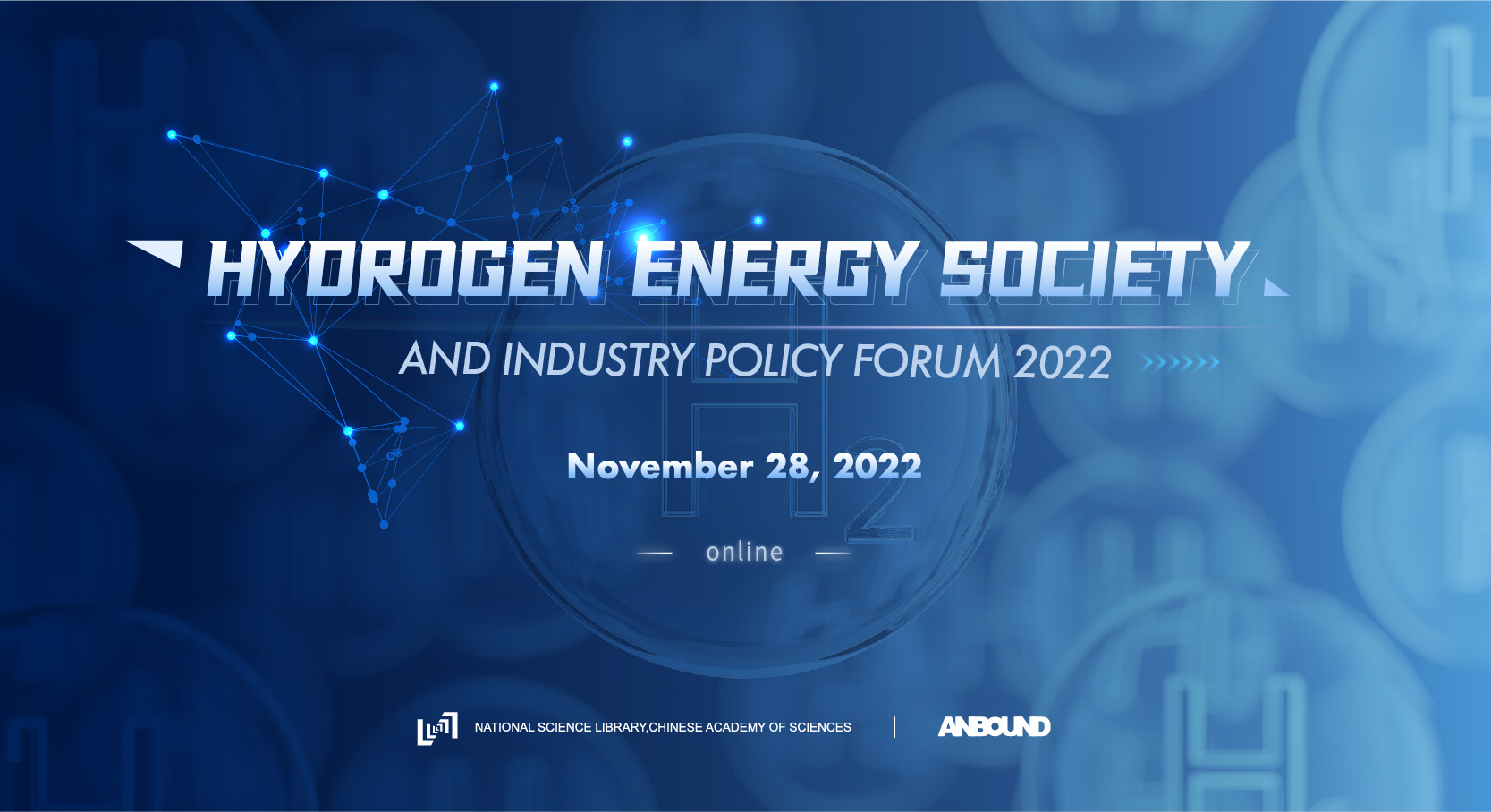 Join us at ANBOUND Forum 2022
Date: 28 November 2022
Time: 9:00AM - 5:00PM (Beijing)
Venue: online
ANBOUND Consulting and the Chinese Academy of Sciences will jointly organize the 2022 Forum entitled Hydrogen Energy Society and Industry Policy Initiatives. This event will take place virtually on November 28, 2022.
On behalf of the Organizing Committee, we would cordially invite you to attend the Forum, a unique opportunity to understand China's energy security strategy and industry policy tendency.
In March this year, the Chinese authorities released a plan on the development of hydrogen energy for the 2021-2035 period, being part of the aim for the country to reach its carbon peaking and neutrality goals. Building a hydrogen energy society will involve a significant revolution in industrial ecosystem, transportation, construction, manufacturing, energy utilization, and service sectors in China.
ANBOUND, an independent think tank that focuses on public policy research and strategic advisory, is a crucial driving force for China's hydrogen energy society. Since 2017, ANBOUND has continuously called on the Chinese high-level decision makers to pay attention to the reality of energy security. In 2020, ANBOUND released our research outcome "Concept and Path of Developing a Hydrogen Energy Society in China". The concept of "hydrogen energy society", first proposed by ANBOUND, has since been adopted at the national strategic level.
The Forum will convene around 300 participants, including policymakers, business leaders, technical researchers, and city administrations for multi-party discussions. Through communication exchanges, report presentations, and on-site observation, participants can well learn the impacts of geopolitics on China's energy patterns, the Chinese decisionmakers how to address key issues, regional policies how to move, and market collaboration how to be forged.
Welcome to joining us.
Agenda (subject to change)
Monday 28 November, online
0900-0915

Opening remarks

Chair: Xiwen Liu, Director of National Science Library, Chinese Academy of Sciences (CAS)

09150-0930

Keynote Speaker:

Caineng Zou, CAS Academician, Director of National Energy Shale Oil Research & Development Center

0930-0945

Keynote Speaker:

Dr. Yao Li, Chief Investment Officer of IFC EAP, Regional Climate Anchor at IFC of World Bank Group

0945-0955

Keynote Speaker:

Robert Herzner, Chief Representative Hong Kong at Germany Trade & Invest (GTAI)

0955-1010

Keynote Speaker:

David Giles, Head of Energy Transition and Integration, Department for International Trade (DIT), British Embassy

1010-1025

Keynote Speaker:

Dr. Bo Li, Senior Economist, MUFG Bank (China)

1025-1035

Break

1035-1050

Keynote Speaker:

Xiwen Liu, Director of National Science Library, Chinese Academy of Sciences (CAS)

1050-1105

Keynote Speaker:

Guo Yu, Acting Deputy Director of Think Tank Research Center, China National Petroleum Corporation Group (CNPC)

1105-1120

Keynote Speaker:

Zhigang Shao, Head of Fuel Cell and Battery Division, CAS Dalian Institute of Chemical Physics

1120-1135

Keynote Speaker:

Yanming Wan, President, Secretariat-General of China Hydrogen Energy Alliance

1135-1150

Keynote Speaker:

Zhaoxi Wang, Director of Public Relations, ANBOUND

Jun He, Senior Researcher, Director of Macro-Economy Center, ANBOUND

1150-1400

Break

1400-1445

Sub-Forum – Hydrogen Energy Strategy and Policy Initiatives

Speakers:

Wei Chen, Head of Advanced Energy Technology Strategy at CAS Wuhan

Yunwei Chen, Chief Editor of World Sci-Tech R&D at CAS Chengdu

Dr. Xinhua Tang, Research Fellow of Technology and Cyber Security, China Institutes of Contemporary International Relations (CICIR)

Chair: Yuan Li, Editorial Director of Progress in Chemistry (Monthly Journal)

1445-1455

Break

1455-1650

Roundtable Session – Hydrogen Industrial Practices and Market Development

Panelists:

Dr. Yiyong Yang, Director of Market and Prices, NDRC Macro Economy Research Institute

Guoqing Huo, Professor of Technology Transfer, UCAS School of Public Policy and Management

Dr. Weilian Bo, Chair Professor, Institute of Atomic and Molecular Physics, Sichuan University

Jinchao Liu, Professor of Clean Energy and Carbon Emission, China Academy of Management Science

Jinfeng He, Chairman, Sichuan United Environment Exchange

Moderator:

Jun He, Senior Researcher, Director of Macro-Economy Center, ANBOUND

1650-1700

Closing remark

Jiansheng Qu, Deputy Director of National Science Library, Chinese Academy of Sciences
*Note: This event has been moved online, due to the pandemic control policy. It cannot be hosted onsite in Chengdu of Sichuan Province, China.